Black Girl Sunscreen: My Review
So this week, I have a review for you guys of the latest sunscreen that I've tried out. You know the vibes already, if you've been following my YouTube channel for a while, you may have seen my sunscreen video, where I share different sunscreens I've tried out. But in this post, I'll be sharing my Black Girl Sunscreen review.
So guys, if you didn't know, SPF is something everybody should be using. And yes that means, even if you're black! SPF helps act as a protective barrier for your skin against the sun rays. You guys know I'm into my skincare, so sunscreen is something that has become part of my skin routine.
Although I've tried out a few different sunscreens, the problems I've had with them were that they were either too runny or left a white casting against my skin tone. I'm sure you can relate to the last point if you're black. It's not easy finding sunscreens out here!
So, I was pleasantly surprised when I found out about Black Girl Sunscreen. Here's my experience with it:
Consistency of Black Girl Sunscreen
I love the thick consistency of using the sunscreen. Unlike some of the others I tried, this didn't feel like I was putting water on my skin. Instead, it was easy to apply and distribute across my skin.
No White Casting With Black Girl Sunscreen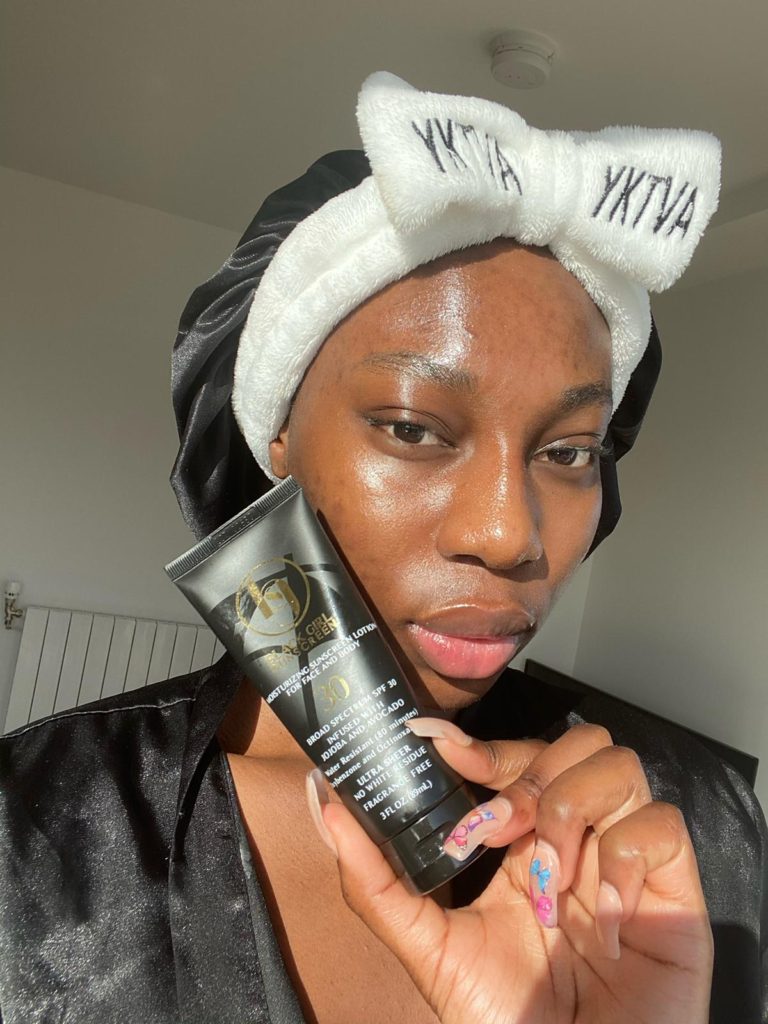 It's in the name guys; Black Girl Sunscreen. It's specifically made for those of us with melanin! It also uses SPF 30 which is on the higher scale of sun protection.
Moisturising
I also love the fact that it feels so moisturising when I put it on. It also leaves a glow and allows my melanin to shine in all its glory!
And I've found it to be pretty affordable too guys.
So you can probably tell that Black Girl Sunscreen is deffo one of my faves now. I looovee that it's made especially for us black queens and through getting one, you're supporting a black-owned business!! You can bag yours with my affiliate link here!
Also guys, I'd like to say thank you to all who have supported my Merch Drop 1! I'm excited to be sharing some more news on Drop 2 soon so watch this space!! You won't want to miss out this time around!
AP X