ENDSARS: Nigerian Police Brutality & How You Can Help
Hey guys. So, this week's post is on a more serious topic. You probably know that I'm of Nigerian heritage and I love my culture. Sadly, the government leading Nigeria is one of our not so good features. You may have seen on social media the uprising of the hashtag ENDSARS movement, relating to police brutality in Nigeria. In this post, I'll be explaining more about what this movement is and how you can help raise awareness and support Nigeria at this time.
What is ENDSARS?
SARS stands for Special Anti-Robbery Squad. They have been around for almost 3 decades in Nigeria. They were initially set up by the government as a dedicated unit to tackle armed robbery in Nigeria.
But, sadly, the individuals making up SARS came to abuse their power and overwhelmingly target, young people in particular. ENDSARS is a movement that arose from the Nigerian youth, protesting to end police brutality and end SARS completely. Due to ENDSARS protests, SARS was dissolved on 11th October 2020.
Whilst, at first glance, this may seem like the goal of what protestors were initially hoping for, it is not all as it seems. A key point made by the government in regards to ending SARS, came with the specification that the officers within SARS would be redeployed. This is very crucial because it means that the same officers within SARS could still have the opportunity to be employed in other police units and still carry out the same abusive crimes, and as we will discuss in the next section, it has unfortunately continued.
So, now the ENDSARS movement has extended to ending police brutality including the wider police force, and not just within SARS.
What Is The Lekki Toll Gate Massacre?
The Lekki Toll Gate massacre took place on Tuesday 20th October 2020. Peaceful protestors were protesting against police brutality in Lekki Toll Gate, Lagos, which is Nigeria's largest city. During this protest, a group of members from the Nigerian Armed Forces came and opened fire on protestors, injuring and killing participants of the demonstration. Social Media, particularly Twitter, was significant in covering this as it happened.
Whilst government officials initially denied killings took place, they later admitted that there had been 2 fatalities. The human rights organisation, Amnesty International stated that at least 12 protestors were killed in the Lekki Toll Gate Massacre.
Why Are Young People A Targeted Group Of SARS?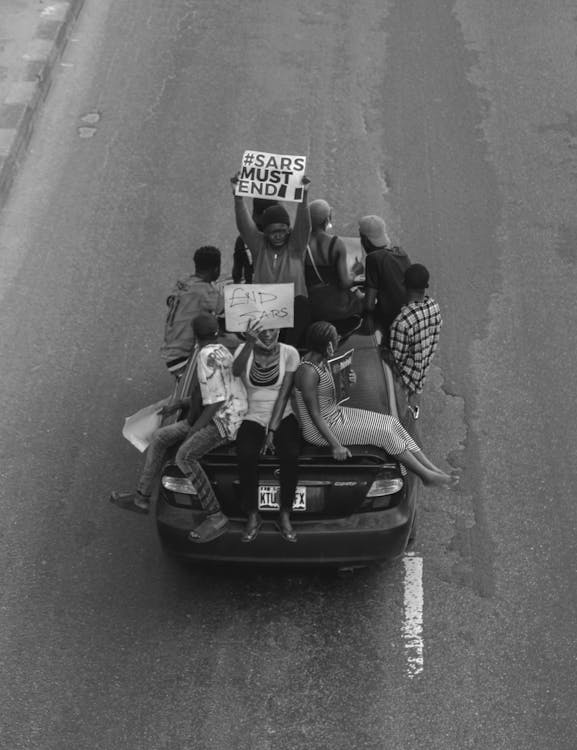 Fraudsters in Nigeria are known to have flashy cars, phones etc. SARS tended to target young people based on this, even when there was no valid grounding to stop and question a specific individual. There have been stories of young people being harassed on the street by SARS, if they have a nice iPhone or car, for example, and questioned for sometimes even up to an hour.
Stories have also been revealed of cases where SARS officers have forced civilians to take out money from their bank account to hand to them. SARS officers were abusing their power against the very reason they had been created in the first place.
Has The Government Officially Responded To The Lekki Toll Gate Massacre?
Nigerian President Buhari's speech after the Lekki Toll Gate massacre didn't address any practical steps to end police brutality. As you can probably imagine, this was met with much disappointment by many Nigerians and another reason for the ENDSARS movement to continue. Many Nigerians are counting down the days for the next general election in 2023 for new leadership.
Social Media Accounts Covering ENDSARS
Feminist Coalition is a collective in Nigeria formed in July 2020 to protest against police brutality. They extensively covered the ENDSARS movement and set up fundraising for medical emergencies, legal aid for wrongfully detained citizens, and relief for police brutality victims. As a result of the curfew implemented by the government, Feminist Coalition has currently stopped receiving donations. But continue to cover updates from what is going on in Nigeria at this time.
On the day of the Lekki Toll Gate massacre, Precious made a Google Drive folder for witnesses to upload files of the event as it unfolded. She wiped off metadata so the sources couldn't be tracked and sent it to media outlets to help increase awareness. Precious has continued to tweet resources and encouraging discussion around the ENDSARS movement.
Hannah Ajala is a British Nigerian journalist, who has also been using Twitter to spread awareness about the #ENDSARS movement.
Hannah tweeted that ''Nigerians only respond properly to international embarrassment,''. So, she's a big advocate of continuing the conversation, for a greater chance of the government doing something.
How Can You Help?
Nigerian Diasporans Against SARS' fundraiser supports the victims on the ground, suffering from the aftermath of the protests, violence etc. across Nigeria. You can donate here. They have also shared updates on how they have used the funding.
Social media is what got us to the place of people, including celebrities, posting about the ENDSARS movement. Please continue to use social media to share about police brutality in Nigeria and bring it to an end completely. We know that there seems to be a theme of bringing to light injustices this year.
Let's all work together to help achieve true democracy in Nigeria. If you have any other resources to help the ENDSARS movement, please share them in the comments below.
AP X